Generators
Standby Power Systems by SnowMelt Inc.
Yes, year round we install radiant heated driveways, walkways and balconys. At the core our primary concern is getting your family home safely. But once home, let there be light!
Installation of Natural and Propane gas standby power generators for your home and your radiant heated driveway is a simple procedure.
We will ask you a series of questions as to what you wish to power when the utility fails. Of course, you can do away with all the questions by simply saying I want it all to work, all the outlets, the heat, all the air conditioners, the fish tank, all of it.
Our radiant heated driveway systems can get you home safely, but once you're home, wouldn't it be nice to provide your family with heat, lights and a working refrigerator and freezer?
Generac and Briggs & Stratton

Why these two brands? Simple. They are reliable.
The warranties are realistic.
Please don't waste your time with an unlicensed company or the local plumber or electrician that has maybe installed one for a family member.
Or worse yet when you ask them can they install one for you they say, sure I think we can do it for you. Don't let them learn on your project. Chose a company that has been installing these systems for years.
Chose a Standby Power System by SnowMelt Inc.
Standby Power Systems, commonly called backup generators, are single unit generator installations that are permanently installed outside the residence and are generally powered by either natural gas or propane.
These units are designed to provide all (or partial) electric power to the home when the utility power fails. Standby power systems are available in all the sizes and with the options you need ranging in output from 8 kW to 750 kW.


The residential and light commercial line of standby generators is suited for use by homeowners and small businesses that need dependable backup power in emergency situations. The smaller residential gensets range in output from 7 to 40 kilowatts and are available in either air-cooled or liquid-cooled models.
The air-cooled models are available in 7 through 20 kilowatts, and the liquid-cooled models are available in 15, 20, 25, 30 and 40 kW outputs. All of the residential / light commercial power systems can be configured to run on natural gas but can be easily reconfigured for liquid propane (LP gas) operation.
These gensets can be configured to work with automatic transfer switches that safely transfer power within seconds of losing the utility power.
These units are capable of supplying electrical power to all pre-selected lights, appliances and equipment, and if you chose the whole home ATS the entire home or business will have power.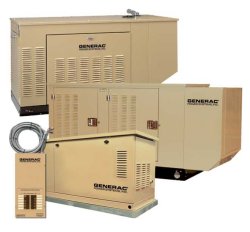 How much does it cost to install a backup generator?
Most modern households are heavily reliant upon electrical energy supplies. The installation of a backup generator can deliver whole-house energy during a loss of power, or it can be designed to supply only necessary systems until electrical service is restored.
There are small, mid-sized and large generators available, and they work in the following ways:
Small - will deliver 7-10 kW, and will be able to most basic household systems, but cannot sustain the needs of the entire home. These tend to need manual start and will average from $5,500 to $7,500 with another possible $500 to $1,000 in installation costs.



Mid-Size - will deliver 12-20 kW, and will be able to function more effectively than a small system, and will deliver the power needed for most if not the entire home. This is a good option for those who need heating during cold weather situations. These will cost from $5,500 to $10,000 and will also come with $1000 - $2000 or more in installation fees.



Large - will deliver 22-30 KW, and will be able to operate the entire home. These will usually be permanently in position and contained in protective "cases". They are usually liquid cooled and can be permanently connected to the home.These will cost from $13,500 to $17,000.

Many will come with installation fees of $2000 - $3000.
Cost breakout
Unless the homeowner is knowledgeable in electrical systems, the installation of a backup generator is not to be considered a "DIY" project. Traditionally installations can include:


Assessment of home energy needs to select suitable equipment (unless whole-house supplies are the goal). To understand the needs of the building the homeowner must do simple math that totals all appliances and household systems, and use the total kW figure to select the proper equipment.


Selection of equipment and list of installation requirements from contractor or supplier.


Preparing site nearest to current electrical meter, power panel and fuel.


Pouring or supplying of a suitably sized concrete pad/precast pad $150-$250.


Installation of diesel fuel or propane tank if you do not have natural gas to feed the generator. This must be done by a a qualified installer. The tank can be buried or positioned next to equipment.


A new subpanel must be installed near the original electrical panel and an automatic transfer switch should be included as well.


A detailed plan of which appliances and electronic devices should be disconnected during use is necessary as well. Usually only the installer can indicate items such as televisions and computers that will be damaged by the fluctuating energy of the generator.
Provide electrical wiring and lighting to code - This is going to depend upon the amount of work required. This project might be priced on a per item basis, or the installer might simply base it on the square footage, kW or as a complete turnkey installation.
The wisest course of action for backup generator installation is to work with an authorized dealer / installer who can help to accurately determine the appropriately-sized system for the home.
The QT Series
Large Residence and Commercial Power Systems where the sound of the running equipment is of concern.
The QT Series of standby generators are targeted primarly at large residences and medium sized commercial establishments.
With more than a dozen models these are a cost-effective, reliable, backup power, generator system that is quiet enough to fit easily into a suburban environment. These gensets range in output from 15 to 150 kilowatts and come in attractive sound attenuated enclosures.
The QT Series operates on either natural gas or liquid propane (LP). Diesel is not an option on this series.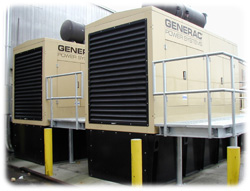 Briggs and Stratton Standby Power Systems
Affordable Power when you need it.
Briggs and Stratton Automatic Standby Generators
Affordable fully automatic standby power in one system.
Whether you are home or away, the system is permanently installed to your home and shuts on and off as needed.
This unique design provides the smallest footprint in its class and blends in with any home style or landscape
7 KW

Standby Power Systems
| Features | Benefits |
| --- | --- |
| Turnkey Extras | Systems include a battery charger, hour meter, and installation pad. The engine also comes pre-filled with synthetic oil and is pre-run at the factory, saving you time & money. |
| Briggs & Stratton Engine | Application-engineered to stringent specifications, these premium Briggs & Stratton engines will provide years of long-lasting, reliable standby power. |
| Limited 2 Year Warranty | The best in the industry and your guarantee of quality and performance. |
10 KW
Standby Power Systems
| Features | Benefits |
| --- | --- |
| Advanced Power Management | Partner with a Briggs & Stratton automatic transfer switch to manage up to two load-dependent 3-ton air conditioning units. |
| Streamlined Space Saving Design | Its sleek, compact profile blends in beautifully with your home's exterior and landscaping, much like your central air conditioner. |
| Durable Outdoor Enclosure | Galvanneal steel provides years of rust proof, outdoor protection - perfect for extreme weather conditions. |
| Maximum Fuel Economy | Smart management of your home's appliances results in less fuel consumption than larger, more fuel hungry generators. |
| Limited 3 Year Parts and Labor Warranty** | Your Briggs & Stratton guarantee of quality and performance – one of the best in the industry. |
| Briggs & Stratton Engine | Application-engineered to stringent specifications, these premium Briggs & Stratton engines will provide years of long-lasting, reliable standby power. |
| Turnkey Extras | Systems include a battery charger, hour meter, and installation base. |
| Features | Benefits |
| --- | --- |
| Advanced Power Management | Partner with a Briggs & Stratton automatic transfer switch to manage up to two load-dependent 4-ton air conditioner units. |
| Streamlined Space Saving Design | Its sleek, compact profile blends in beautifully with your home's exterior and landscaping, much like your central air conditioner. |
| Durable Outdoor Enclosure | Galvanneal steel provides years of rust proof, outdoor protection--perfect for extreme weather conditions. |
| Maximum Fuel Economy | Smart management of your home's appliances results in less fuel consumption than larger, more fuel hungry generators. |
| Limited 3 Year Parts and Labor Warranty** | Your Briggs & Stratton guarantee of quality and performance – one of the best in the industry. |
| Briggs & Stratton Engine | Application-engineered to stringent specifications, these premium Briggs & Stratton engines will provide years of long-lasting, reliable standby power. |
| Turnkey Extras | Systems include a battery charger, hour meter, and installation base. |
| Features | Benefits |
| --- | --- |
| Briggs & Stratton V-Twin Commercial Engine | Application-engineered to stringent commercial specifications, these premium Briggs & Stratton engines will provide years of long-lasting, reliable standby power. |
| CoastGuard™ All-Climate Enclosure | Perfect for coastal climates, this premium enclosure features heat resistant polymer vents and louvers, rounded corners, and an automotive rust proofing paint process for years of rust resistant 4 season protection. Backed by a 3 year enclosure warranty. |
| Limited 4 Year Warranty | The best in the industry and your guarantee of quality and performance. |
| Overload Protection | When multiple high-wattage items attempt to start at the same time, the power demand can cause a generator to overload and shutdown. The exclusive AC Power Control Module's advanced computer controls automatically manage 2 centeral air conditioners while safeguarding the generator against power overload. |
| IntelliGEN™ Central Air Technology | The patented IntelliGEN automatic transfer switches available only with Briggs & Stratton standby generators allows you to manage the high power demands of central air conditioning in addition to essential items while protecting against AC overload. (10kW = two 3 ton, 12kW = two 4 ton, 15kW = two 5 ton, 20kW = two 5 tn plus) |
| Sound Shield™ Technology | Engineered sound passages, an automotive-style exhaust system and acoustic foam dampeners ensure ultra-quiet, neighbor-friendly operation. (65 dB under normal operation) |
| Turnkey Extras | Each system includes a battery charger and hour meter. The engine also comes pre-filled with oil, 50/50 DexCool® long life coolant and is pre-run at the factory, saving you time and money. |
| Features | Benefits |
| --- | --- |
| 4 Year | One of the best in the industry, and your assurance of quality and performance. |
| GM Liquid Cooled Engine | GM Vortec engines provide sophisticated yet extremely durable industrial grade power. |
| Overload Protection | When multiple high-wattage items attempt to start at the same time, the power demand can cause a generator to overload and shutdown. The exclusive AC Power Control Module's advanced computer controls automatically manage 2 central air conditioners while safeguarding the generator against power overload. |
| IntelliGEN™ Central Air Technology | The patented IntelliGEN automatic transfer switches available only with Briggs & Stratton standby generators allows you to manage the high power demands of central air conditioning in addition to essential items while protecting against AC overload. (10kW = two 3 ton, 12kW = two 4 ton, 15kW = two 5 ton, 20kW = two 5 ton plus) |
| Sound Shield Technology (Liquid Cooled) | Engineered sound passages, an automotive-style exhaust system and acoustic foam dampeners ensure ultra-quiet, neighbor-friendly operation. |
| Turnkey Extras | Each system includes a battery charger and hour meter. The engine also comes pre-filled with oil, 50/50 DexCool® long life coolant and is pre-run at the factory, saving you time and money. |